This article is about the character. For the card whose Japanese name translates to "Mimicry", see "
Mimic
".
Mimicry

Names
English

Mimicry

Japanese

茂野間ネオ

English 

(Asia)

Neo Monoma

Appearances
Video game debut
Personal
Gender
Deck
Tag Force
Tag Force 2
Mimicry, known as Neo Monoma in the Japanese version, is a character appearing in various video games.
Appearances
Edit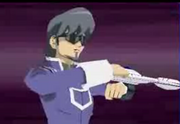 In the Yu-Gi-Oh! GX games, Mimicry a teacher at Duel Academy, while in the Yu-Gi-Oh! 5D's games, he's a member of Sector Security.
In his own story in Tag Force 4, he competes with the player against Carly Carmine and Luna in the Preliminaries, Misty Tredwell and Leo in the quarter finals, Crow Hogan and Akiza Izinski in the semi-finals and Jack Atlas and Yusei Fudo in the finals. For completing the story, the Player will receive a photo of himself, Mimicry and Takuya Ito (Georg) called "Tops Security".
In all the video games he is featured in (save Yu-Gi-Oh! GX Duel Academy), when opened for free Duels, Mimicry gives the player the ability to play against their own Decks, in a Mirror Match-style setup. Thus, to unlock Mimicry's own Decks, the player must complete Story Mode with him as partner and have all the cards in his Decks in the player's trunk.
In Yu-Gi-Oh! GX Tag Force 2, this is done by setting the second Deck Recipe as Mimicry's Deck. Upon winning, the player gains 500,000 DP, and about 10,000 experience.
Duel Academy
Edit
(Decklist incomplete)
Tag Force
Edit
Tag Force 3
Edit
Tag Force 4
Edit
Tag Force 5
Edit
Tier 1
Tier 2
Tier 3
Other