Ad blocker interference detected!
Wikia is a free-to-use site that makes money from advertising. We have a modified experience for viewers using ad blockers

Wikia is not accessible if you've made further modifications. Remove the custom ad blocker rule(s) and the page will load as expected.
Japanese:

メーロラ

Romaji:

Mērora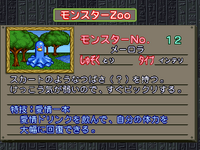 Monster Number

12

Group

Bird

Type

Smart

It has wings like a skirt (?).

Special Ability: One Love

By drinking the love drink, you can substantially
recover your physical strength.
Japanese:

メーロラ

Romaji:

Mērora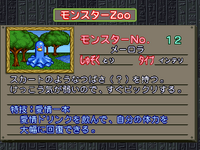 モンスターNo.

12

しゅぞく

とり Tori

タイプ

インテリ Interi

スカートのようなつばさ(?)を持つ。

けっこう気が弱いので、すぐビックリする。

特技: 愛情一本

愛情ドリンクを飲んで、自分の体力を
大幅に回復できる。