Japanese:

野坂ミホ

Kana:

のさかミホ

Romaji:

Nosaka Miho

Translated: Miho Nosaka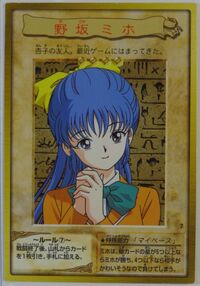 Card type
Level
Lore

Téa

's childhood friend. She started to play games recently.

Ability

At My Own Pace

As for Melody, if the opponent's card has five or more stars then Melody wins, if it has 4 or less then she loses pitifully.

Rule

~Rule ➆~

When the battle ends, draw 1 card from your Deck and you can end your turn.
Sets
Ad blocker interference detected!
Wikia is a free-to-use site that makes money from advertising. We have a modified experience for viewers using ad blockers

Wikia is not accessible if you've made further modifications. Remove the custom ad blocker rule(s) and the page will load as expected.