"Material" (マテリアル Materiaru) is a series of monsters used by Seto Kaiba in Yu-Gi-Oh! R.
Appearance
All "Material" monsters are animals with mechanical characteristics.
Playing style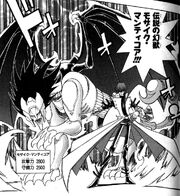 This series focuses on gathering materials on the
field
in order to unite them into a more powerful monster (which Kaiba calls a "chimera"). When a "chimera" is
destroyed
, part of its materials remain on the field, so in the next turn, the player can
Summon
another material and fuse them into a new "chimera".
Ad blocker interference detected!
Wikia is a free-to-use site that makes money from advertising. We have a modified experience for viewers using ad blockers

Wikia is not accessible if you've made further modifications. Remove the custom ad blocker rule(s) and the page will load as expected.