Match Winner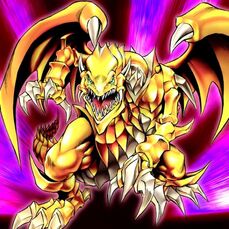 ---
---
Anime appearances
---
---
The Match Winners are a series of monsters with a special effect that allows them to win the entire Match if they decrease the opponent's Life Points to 0 with a direct attack. A common effect that the Effect Monsters in this series share is that they cannot be Special Summoned and can only be Tribute Summoned by Tributing three monsters of the same Type, with the exception of the Synchro and Xyz Monsters.
With the exception of "Victory Dragon" (which is Forbidden in Advanced Format, and in the OCG), all of them are Illegal and very rare since they were either given as prize cards, or as attendance cards in every year's World Championship. "Victory Dragon" was released in the TCG and was given away as a promotional card with "Shonen Jump Magazine". It was banned in the Advanced Format that followed its release. In 2010, the first Match Winner Synchro Monsters were released, "Stardust Divinity" and "Grizzly, the Red Star Beast". They both can only be Summoned by Synchro Summon, instead of Tribute Summon, and instead of needing three monsters with the same type as them, they need a Tuner monster that have the same Attribute as the respective Match Winner, and two or more non-Tuner monsters that have the same Type as them.
In 2011, the first Match Winner Xyz Monsters were released, "King Landia the Goldfang" and "Queen Nereia the Silvercrown". Both of these Monsters can only be Xyz Summoned, and their match-winning effects require that they have at least one Xyz Material that is the same type as the monster itself. All Match Winners, with the exception of the Shonen Jump "Victory Dragon", say "This card cannot be used in a duel" at the bottom where the code would be.
There are extremely rare "original" cards that don't say "REPLICA". These were given out to first place winners. There are more common, but still very rare, versions that say "REPLICA" on them. These often cost a lot less.