Japanese:

究極竜騎士

Romaji:

Masutā obu Doragon Naito

Translated: Master of Dragon Knight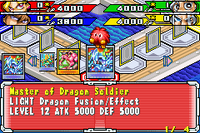 Other languages
Name
Lore
French
Chevalier Dragon Ultime
Vous pouvez invoquer cette carte grâce à une Invocation Spéciale en utilisant la Fusion de "Lustre Noir du Soldat" et de "Dragon Suprême aux Yeux Bleus". Pour chaque monstre de Type Dragon placé sur le Terrain (sauf celui-ci), cette carte reçoit un bonus de 500 points en ATK.
German
Meister des Drachensoldaten
"Schwarzer glänzender Soldat" + "Letzter blauäugiger Drache".
Dieses Monster kann nur mit einer Fusionsbeschwörung spezialbeschworen werden. Für jedes Drachenmonster auf dem Feld außer diesem erhält die Karte einen ATK-Bonus in Höhe von 500 Punkten.
Italian
Capo del Soldato Drago
"Glorioso Soldato Nero" + "Drago Finale Occhi Blu".
Questo Mostro può essere evocato solo tramite Evocazione per Fusione. Per ciascun Mostro di Tipo Drago presente nella tua parte di Campo (fatta eccezione per questa Carta) il valore ATK di "Capo del Soldato Drago" aumenta di 500 punti.
Spanish
Amo del Dragón Soldado
"Soldado de Brillo Negro" + "Dragón Máximo Ojos Azules".
A este monstruo sólo puede hacérsele Invocación Especial con una Invocación de Fusión. Por cada monstruo Dragón en tu Campo, sin incluir a este, esta carta recibe una bonificación de 500 puntos ATQ.
Decks
Search categories
Ad blocker interference detected!
Wikia is a free-to-use site that makes money from advertising. We have a modified experience for viewers using ad blockers

Wikia is not accessible if you've made further modifications. Remove the custom ad blocker rule(s) and the page will load as expected.