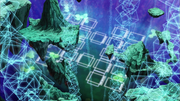 A Master Duel is a term used in the Yu-Gi-Oh! VRAINS anime used to describe the standard Duel format used in previous Yu-Gi-Oh! series. It uses the standard Dueling rules instead of Speed Duel rules.[1]
According to Revolver, only a Master Duel can unleash the true potential of Link Monsters.[1]
References
↑ 1.0 1.1 Yu-Gi-Oh! VRAINS episode 10: "Impact! Cyberse Vanishes"
Series
Arcs
Duel terms
Items
Technology
Groups
Abilities
Events
Ad blocker interference detected!
Wikia is a free-to-use site that makes money from advertising. We have a modified experience for viewers using ad blockers

Wikia is not accessible if you've made further modifications. Remove the custom ad blocker rule(s) and the page will load as expected.