Japanese:

マリナック

Romaji:

Marinakku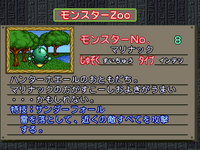 Monster Number

8

Group

Underwater

Type

Smart

A faithful friend of

Hunter Whale

.

The way Marinak swims is so cool...

maybe.

Special Ability: Thunder Fall

It attacks all nearby
enemies by raining lightning on them.
Ad blocker interference detected!
Wikia is a free-to-use site that makes money from advertising. We have a modified experience for viewers using ad blockers

Wikia is not accessible if you've made further modifications. Remove the custom ad blocker rule(s) and the page will load as expected.