Welcome to the Yu-Gi-Oh! Wikia!
The Yu-Gi-Oh! Wikia is a free repository on all aspects of the Yu-Gi-Oh! franchise that anyone can edit. We've been around since May 26, 2005 — and in that time we've assembled a lot of information about the cards and other aspects of the Yu-Gi-Oh! phenomenon. Please click here for dates of upcoming Yu-Gi-Oh! TCG & OCG product releases, as well as anime air dates and manga book release dates.
Characters
There are a lot of characters in this long-running franchise. Here are some of the characters from the film, Yu-Gi-Oh! The Dark Side of Dimensions.
More characters from

ARC-V
ZEXAL
5D's
GX
DM
Trivia
Stats
Wanna know more about the kinds of information you can find here? Here's a breakdown of the 21,166 cards we're cataloguing, stat fans:

In addition, we have also begun to document individual card releases. We currently document 21 of these. You should also know that much of the information on this wiki initially came from other Yu-Gi-Oh! communities, and that many of these have since united at ygorganization.com.
---
Card information
Set information
News
TCG

June 16 

July 8 

July 21 

August 5 

August 18 

September 2 

September 2 

September 6 

September 15 

September 16 

October 7 

November 

2017, 

OCG

June 4 

June 18 

June 18 

June 21 

June 24 

July 1 

July 9 

July 21 

July 21 

July 29 

July 30 

July 30 

August 5 

August 6 

September 10 

September 21 

September 24 

October 8 

November 26 

Anime

English air dates
Japanese air dates

Manga

English chapter dates
Japanese chapter dates
Latest sets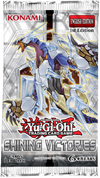 Shining Victories is the eighth Booster Pack in the Yu-Gi-Oh! ARC-V era.
It introduces the "Amorphage and "Lunalight" archetypes to the OCG/TCG, as well as the "Digital Bug" series. It also contains support/members for the ""Blackwing", "Blue-Eyes", "Dinomist", "Melodious", "Performapal", "Odd-Eyes", "Raidraptor", "Speedroid", "Red-Eyes", "Toon" and "with Eyes of Blue" archetypes.
The TCG version also includes members of the "Fire King", "Geargia", "Kaiju", "Kozmo", "Stardust" and "Red Dragon Archfiend" archetypes.
---
… further results
Latest episodes
Episode 111: Pendulum Heart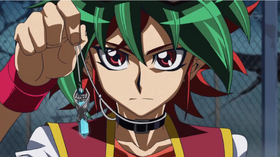 Believing in the power of the Dueling he inherited from his father, Yuya stands against Aster. As Aster watches Yuya's Dueling, he recalls the memories of his Duel against Yusho.
… further results
Latest chapters
… further results
Related wikis
Set galleries
Twitter
Facebook