Welcome to the Yu-Gi-Oh! Wikia!
The Yu-Gi-Oh! Wikia is a free repository on all aspects of the Yu-Gi-Oh! franchise that anyone can edit. We've been around since May 26, 2005 — and in that time we've assembled a lot of information about the cards and other aspects of the Yu-Gi-Oh! phenomenon. Please click here for dates of upcoming Yu-Gi-Oh! TCG & OCG product releases, as well as anime air dates and manga book release dates.
Characters
There are a lot of characters in this long-running franchise. Here are some of the most important ones from the latest anime series.
Trivia
Stats
Wanna know more about the kinds of information you can find here? Here's a breakdown of the 20,720 cards we're cataloguing, stat fans:

In addition, we have also begun to document individual card releases. We currently document 21 of these. You should also know that much of the information on this wiki initially came from other Yu-Gi-Oh! communities, and that many of these have since united at ygorganization.com.
---
Card information
Set information
News
TCG

February 11 

February 25 

March 1 

March 17 

March 18 

April 5 

April 14 

May 5 

June 16 

September 6 

OCG

February 6 

February 11 

February 20 

February 20 

March 19 

March 19 

March 21 

April 

April 9 

April 21 

April 23 

May 

June 

Anime

English air dates
Japanese air dates

Manga

English chapter dates
Japanese chapter dates
Latest sets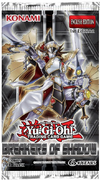 Breakers of Shadow is the seventh Booster Pack in the Yu-Gi-Oh! ARC-V era.
It introduces the "Destruction Sword", "Dinomist", and "Shiranui" archetypes to the OCG/TCG. It also contains support/members for the "Blackwing", "Buster Blader", "Deskbot", "Dracoslayer", "Magician", "Majespecter", "Melodious", "Ninja", "Odd-Eyes", "Performapal", "Speedroid", "Superheavy Samurai", and "Toon" archetypes, as well as the "Goyo" series.
The TCG version includes members/support for the "Atlantean", "Black Luster Soldier", "Cyber Dragon", "Gaia The Fierce Knight", "Kaiju", "Kozmo", "Red-Eyes" and "Traptrix" archetypes.
---
… further results
Latest episodes
Episode 93: The Destructive Duel Machine
After losing both Celina and Zuzu, Yuya sets off with his friends to rescue them! Meanwhile, the City is thrown into chaos due to the Commons riot. As a countermeasure, Roger decides to carry out a second semifinal match! The match is between the King, Jack Atlas, who receives overwhelming support from the citizens, and Sergey!!
… further results
Latest chapters
Chapter 6: Feeling Alive!!
When it seemed Shun was in the verge of defeat, he Summons his ace monster and corners Yuya, who stands against it with his "Odd-Eyes" monsters.
… further results
Related wikis
Set galleries
Twitter
Facebook