Welcome to the Yu-Gi-Oh! Wikia!
The Yu-Gi-Oh! Wikia is a free repository on all aspects of the Yu-Gi-Oh! franchise that anyone can edit. We've been around since May 26, 2005 — and in that time we've assembled a lot of information about the cards and other aspects of the Yu-Gi-Oh! phenomenon. Please click here for dates of upcoming Yu-Gi-Oh! TCG & OCG product releases, as well as anime air dates and manga book release dates.
Characters
There are a lot of characters in this long-running franchise. Here are some of the characters from the film, Yu-Gi-Oh! The Dark Side of Dimensions.
More characters from

ARC-V
ZEXAL
5D's
GX
DM
Trivia
"Gogiga Gagagigo", "Inpachi", "Invader of Darkness", "Marauding Captain" and "Freed the Brave Wanderer" appear in the artwork of "Memory of an Adversary".
The "Blue-Eyes White Dragon" card is Seto Kaiba's signature card. It shares its 3000 ATK with the rivals of other series, which are Chazz's "Armed Dragon LV10", Jack's "Red Dragon Archfiend", Kite's "Galaxy-Eyes Photon Dragon", and Declan's "D/D/D Cruel End King Armageddon".
"Ojama King", "Elemental HERO Air Neos", "Steam Gyroid", "Blue-Eyes White Dragon", "Dark Magician", "Gearfried the Iron Knight", "Skyscraper 2 - Hero City" and "Skyscraper" appear in the artwork of "Dimension Explosion".
Stats
Wanna know more about the kinds of information you can find here? Here's a breakdown of the 21,054 cards we're cataloguing, stat fans:

In addition, we have also begun to document individual card releases. We currently document 21 of these. You should also know that much of the information on this wiki initially came from other Yu-Gi-Oh! communities, and that many of these have since united at ygorganization.com.
---
Card information
Set information
News
TCG

May 5 

May 26 

June 16 

July 8 

July 21 

August 5 

August 18 

September 2 

September 2 

September 6 

September 15 

September 16 

2017, 

OCG

May 7 

May 14 

May 14 

May 21 

June 4 

June 18 

June 18 

June 21 

June 24 

July 9 

July 30 

August 6 

September 10 

September 21 

September 24 

Anime

English air dates
Japanese air dates

Manga

English chapter dates
Japanese chapter dates
Latest sets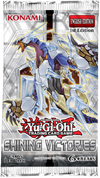 Shining Victories is the eighth Booster Pack in the Yu-Gi-Oh! ARC-V era.
It introduces the "Amorphage and "Lunalight" archetypes to the OCG/TCG, as well as the "Digital Bug" series. It also contains support/members for the ""Blackwing", "Blue-Eyes", "Dinomist", "Melodious", "Performapal", "Odd-Eyes", "Raidraptor", "Speedroid", "Red-Eyes", "Toon" and "with Eyes of Blue" archetypes.
The TCG version also includes members of the "Fire King", "Geargia", "Kaiju", "Kozmo", "Stardust" and "Red Dragon Archfiend" archetypes.
---
… further results
Latest episodes
Episode 107: The Duel-Starved Amazoness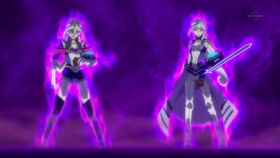 Sayaka searches for Kite, who has disappeared after his Duel against Shay, all by herself. At the same time, the Tyler sisters Gloria and Grace reach the Xyz Dimension under Leo Akaba's orders. The sisters notice Sayaka and start a Duel against her. As she is pushed into a disadvantageous situation, her comrade Allen rushes in to help. The Tag-Duel against the Tyler sisters was much tougher than expected, and the two of them were overwhelmed! And then…!?
… further results
Latest chapters
Chapter 10: The Entertainment Ends!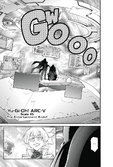 The Duel between Yuya and Sora reaches a conclusion. However, at the end of the battle, a new mysterious enemy appears, who invades Yuya's head looking for his memories.
… further results
Related wikis
Set galleries
Twitter
Facebook