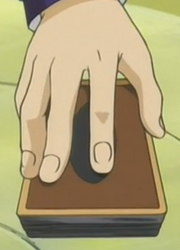 Main Deck, often referred to simply Deck (デッキ, Dekki), is a pile of player's cards (Monster, Spell or/and Trap Cards) that prepared to draw cards from it during the play.
Fusion, Synchro, Xyz and Token Monsters cannot be included in it.
All its cards have to be face-down during the Duel.
Main Deck construction restrictions
With a lot of cards to choose from, you can create and customize your own Deck with your favorite cards. However, you should make sure you know the format of the game, and ensure you are adequately prepared.
Constructed Deck format
Main Deck must have only Legal cards.
It must have a minimum of 40 cards, and a maximum of 60 cards. Only the cards in the Main Deck count towards this total.
A Duelist may not have more than three copies of any Unlimited card included in their Main Deck, Side Deck, and Extra Deck combined.

If a Forbidden, Limited, or Semi-Limited List is used, the number of copies must not exceed what in the List.
Cards which always have their name treated as that of another card are considered to be the same as that card for this restriction.
Sealed Deck format
Main Deck must be constructed using only card product provided at the event.
It must have a minimum of 20 cards, the size may be raised to a higher number, but the size should never be below 20. There is no maximum size.
A Duelist may include as many copies of any card he or she likes, even more than three.