Ad blocker interference detected!
Wikia is a free-to-use site that makes money from advertising. We have a modified experience for viewers using ad blockers

Wikia is not accessible if you've made further modifications. Remove the custom ad blocker rule(s) and the page will load as expected.
Japanese:

ラッキッキー

Romaji:

Rakkikkī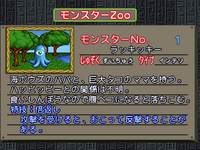 Monster Number

1

Group

Underwater

Type

Smart

It has an Umibozu for a father and a giant octopus for a mother.

Its relationship with

Hapippy

is unknown.

Because it's a glutton, it tends to gorge when it feels down.

Special Ability: Double Back

When attacked, it may fight
back.
Japanese:

ラッキッキー

Romaji:

Rakkikkī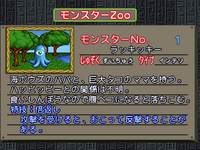 モンスターNo.

1

しゅぞく

すいちゅう Suichū

タイプ

インテリ Interi

海ボウズのパパと、巨大タコのママを持つ。

ハッピッピー

との関係は不明。

食いしんぼうなので腹ペコになると落ち込む。

特技: 倍返し

攻撃を受けると、おこって反撃することが
ある。