Longing Freesia
Page Help

2
63,630pages on
this wiki
Longing Freesia (「切望のフリージア」, "Setsubō no Furījia") is the second Japanese ending theme of the Yu-Gi-Oh! ZEXAL series. It debuted on episode 26 and stopped airing on episode 49, being replaced by the song Wild Child on episode 50. It is performed by DaizyStripper.
The ending slightly changed from episode 29 and onwards with several scenes showing more effects, like a growing flower behind Tori, and the scene with younger Yuma, Tori and Bronk looking like an old movie.
Full Version
Edit
誰かが水をくれた
それは簡単に虹を描いた
理想通りの僕になるのは
難しいね

苦しみもなしに
勝利はつかめないけれど
咲いていたい

かっこ悪い夢がある
叶えるためなら
笑われても構わない
限界は自分が決めた甘えだからこそ
明日へ乗り越えてみせる
Ah 青い空めがけて
咲き誇るよ
切望のフリージア

数え切れない花びらを
犠牲にしてきた
その頭上に僕がいる
Ah 今日も迷いながら
憧れるよ
切望のフリージア
だれかがみずをくれた
それわかんたんににじをえがいた
りそうどおりのぼくになるのは
むずかしいね

くるしみもなしに
しょうりはつかめないけれど
さいていたい

かっこわるいゆめがある
かなえるためなら
わらわれてもかまわない
げんかいはじぶんがきめたあまえだからこそ
あすへのりこえてみせる
アー あおいそらめがけて
さきほこるよ
せつぼうのフリージア

かぞえきれないはなびらを
ぎせいにしてきた
そのずじょうにぼくがいる
アー きょうもまよいながら
あこがれるよ
せつぼうのふれえしあ
Dareka ga mizu wo kureta
Sore wa kantan ni niji wo egaita
Risou doori no boku ni naru no wa
Muzukashī ne

Kurushimi mo nashi ni
Shouri wa tsukamenai keredo
Saiteitai

Kakko warui yume ga aru
Kanaeru tame nara
Warawaretemo kamawanai
Genkai wa jibun ga kimeta amae dakara koso
Asu e nori koete miseru
Ā aoi sora megakete
Saki hokoru yo
Setsubou no Furījia

Kazoekirenai hanabira wo
Gisei ni shite kita
sono zujou ni boku ga iru
Ā kyou mo mayoi nagara
Akogareru yo
Setsubou no Furījia
Translation
Edit
I gave someone water,
that's as easy as drawing a rainbow.
I will try and right myself onto the ideal path,
though it will be difficult.

As I go on, hopefully without suffering.
Trying to grasp onto and seize victory, and yet
I want to bloom!

There are gonna be unshakable, bad dreams.
If going to grant it,
there'll be laughter and carelessness.
I decided to lessen my limits
riding on, crossing over to tomorrow, I'll show you.
Ah, aiming towards the blue skies,
taking pride in our blooming progress.
Freesia of a longing kind!

All these uncountable flower petals,
they will be made into the sacrifice.
Yes, in that space overhead, that's where I'll be.
Ah, although feeling hesitant today,
I'm still longing for,
Freesia of a longing kind.
Characters
Edit
Duel Monsters
Edit
Monster Appearance
Edit
Card Appearance
Edit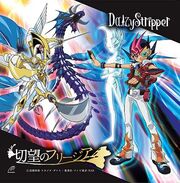 The single containing and named after Longing Freesia was released November 2, 2011, and contains the following tracks:
Longing Freesia (切望のフリージア Setsubō no Furījia)
Single Medley (SINGLEメドレー)