List of Yu-Gi-Oh! Duel Monsters II: Dark duel Stories cards
Page Help

0
Share
Ad blocker interference detected!
Wikia is a free-to-use site that makes money from advertising. We have a modified experience for viewers using ad blockers

Wikia is not accessible if you've made further modifications. Remove the custom ad blocker rule(s) and the page will load as expected.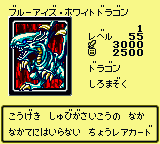 This is a list of cards in Yu-Gi-Oh! Duel Monsters II: Dark duel Stories. The game features 720 cards, numbered from 1 to 720; the first 365 cards in the list are identical to the Duel Monsters card list.
A gallery of cards can also be viewed.
DM1
DM2

Cards
Game guides
Game guide promotional cards

DM3

Game guides
Game guide promotional cards

DDS
DM4

Game guides
Game guide promotional cards

DM5

Game guides
Game guide promotional cards

EDS
DM6

Game guides
Game guide promotional cards

SDD