Limited Edition

English

Limited Edition

Other names

French: Édition Limitée
German: Limitierte Auflage
Italian: Edizione Limitata
Korean: Limited Edition
Portuguese: Edição Limitada
Spanish: Edición Limitada
Limited Edition is placed on any card that is part of a Collection in the TCG. Master Collection Volume 1 and Volume 2 both use "Limited Edition" on their cards, as do the cards featured in Collector Tins. As the name suggests, a "Limited Edition" card is limited, meaning that they will soon stop printing the card and it will soon become Out of Print. A card that is "Limited Edition" may be produced in a pack, but not on the scale of rarity as the "Limited Edition" card was. There is also a chance that the cards' artwork may be different. Cards that were released from Shonen Jump are also "Limited Edition", because every Shonen Jump magazine brings a different card in every one of its editions.
"Limited Edition" can also refer to Promotional cards used in Sneak Preview events, Tournaments, and other Hobby League Events as well. Limited Edition simply means that the card of that rarity with the set ID, i.e. BPT-001, will not be printed anymore after a period of time.
Essentially, almost all cards released outside of packs are Limited Edition. Like 1st Edition cards, Limited Edition cards have a gold Eye of Anubis Hologram.
Limited Edition cards are of all rarities - as seen with Gold Series cards.
New Limited Edition cards have their text at the bottom of the card, to the right of the passcode.
Example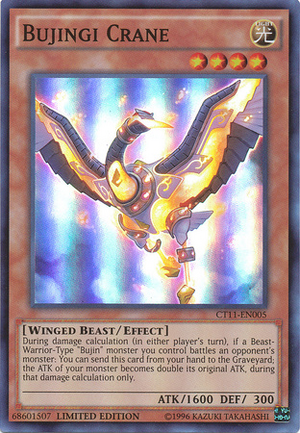 Ad blocker interference detected!
Wikia is a free-to-use site that makes money from advertising. We have a modified experience for viewers using ad blockers

Wikia is not accessible if you've made further modifications. Remove the custom ad blocker rule(s) and the page will load as expected.