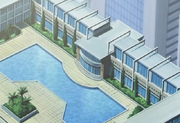 Leo and Luna's penthouse (龍亞と龍可のペントハウス) is the residence of the twins; Leo and Luna. It is located in the highest part of Tops.
Leo and Luna's parents are often away, leaving the penthouse all to Leo and Luna. While Yusei Fudo was on the run from Sector Security, the twins found him unconscious outside and brought him in, after Luna sensed something. They managed to talk Yusei into staying for some of the night. They also let Bolt Tanner and Tenzen Yanagi stay here while investigating the Dark Signers.
Ad blocker interference detected!
Wikia is a free-to-use site that makes money from advertising. We have a modified experience for viewers using ad blockers

Wikia is not accessible if you've made further modifications. Remove the custom ad blocker rule(s) and the page will load as expected.