Japanese:

デューカー・ツイン・ソード

Romaji:

Dyūkā Tsuin Sōdo

Translated: Duker Twin Sword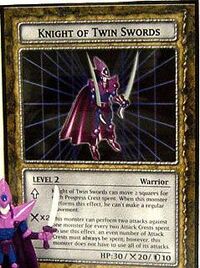 Tribe
Level

2

HP / ATK / DEF

30 / 20 / 10

Knight of Twin Swords can move 2 squares for each

Progress Crest

spent. When this

monster

performs this

effect

, he can't make a regular movement.

× 2

This monster can perform two

attacks

against one monster for every two

Attack Crests

spent. To use this effect, an even number of Attack Crests must be spent, however, this monster does not have to use all of its attacks.
Sets
"Knight of Twin Swords" pages
Ad blocker interference detected!
Wikia is a free-to-use site that makes money from advertising. We have a modified experience for viewers using ad blockers

Wikia is not accessible if you've made further modifications. Remove the custom ad blocker rule(s) and the page will load as expected.