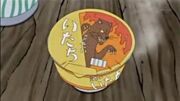 Kiiroi Itachi (黄色いいたち) is a brand of cup ramen in Yu-Gi-Oh! 5D's.[1] In Yu-Gi-Oh! ARC-V a cup could be seen on Lazar's table. [2]
Events
Lazar's mother bought a cup of this for Lazar's birthday. She had to sell her clothes in order to afford it. Lazar was concerned over the amount of money spent on it, but appreciated the present and shared it with his brother and sister. This was the first time he ever had cup ramen and developed a strong liking of it.[1]
While Lazar hid from Yusei and his friends in a mall, he browsed some cup ramen in a shop. Among the brands there were Kiiroi Itachi.[3]
References
↑ 1.0 1.1 Yu-Gi-Oh! 5D's episode 115: "Press Him About the Mystery! The Endgame Riding Duel!!"
↑ Yu-Gi-Oh! ARC-V episode 98: "Friendship Finale"
↑ Yu-Gi-Oh! 5D's episode 81: "Get With The Program, Part 1"