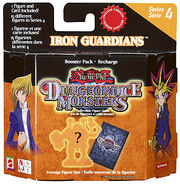 Iron Guardians was the 4th. (and last) Booster Pack of Yu-Gi-Oh! Dungeon Dice Monsters released in America.
Monster & Item List
This set is made up from monsters from the Japanese Booster Sets 2, 3, 4 and 5. An early image of this set's Booster Box shows a silhouette of "Archfiend of Gilfer", who might have previously been intended to be in this set.
English
Japanese
Other
Ad blocker interference detected!
Wikia is a free-to-use site that makes money from advertising. We have a modified experience for viewers using ad blockers

Wikia is not accessible if you've made further modifications. Remove the custom ad blocker rule(s) and the page will load as expected.