Ad blocker interference detected!
Wikia is a free-to-use site that makes money from advertising. We have a modified experience for viewers using ad blockers

Wikia is not accessible if you've made further modifications. Remove the custom ad blocker rule(s) and the page will load as expected.
Japanese:

ハンターホエール

Romaji:

Hantā Hoēru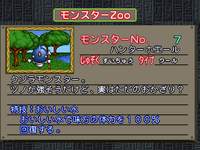 Monster Number

7

Group

Underwater

Type

Cool

Whale monster.

Its horn seems strong, but is it, or is it just ornamentation?

Special Ability: Tasty Water

Heal ally HP by
100%.
Japanese:

ハンターホエール

Romaji:

Hantā Hoēru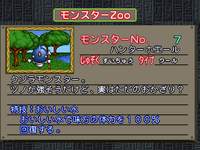 モンスターNo.

7

しゅぞく

すいちゅう Suichū

タイプ

クール Kūru

クジラモンスター。

ツノが強そうだけど、実はただのおかざり?

特技: おいしい水

おいしい水で味方の体力を100%
回復する。