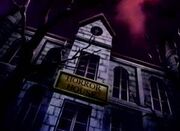 The Horror House is a haunted house attraction at the United States Kaiba Land in the anime.[1]
The text on the sign reading "Horror House" was erased in English version.[1]
Leon von Schroeder and Ethan Shark dueled here in the Grand Championship.[1]
References
↑ 1.0 1.1 1.2 Yu-Gi-Oh! episode 90: "Mind Game, Part 1"