It has been suggested that this article be renamed to Sacred Guardians. (discuss)
The reason given was: Dub name
High Priests

Japanese translated

High Priests

English

High Priests

Appears in (anime)
Appears in (manga)
The High Priests were six of the strongest individuals chosen to serve the Pharaoh of Ancient Egypt. A position filled by many, however the most notable is the group that guarded Pharaoh Atem 3,000 years ago. The six Priests that were deemed to be worthy on serving the Pharaoh also had access to six of the Millennium Items (with the Pharaoh himself always wielding the Millennium Puzzle) to ensure the Pharaoh's safety, as well as to utilize their power to bring justice to Egypt. Notably, after retiring his position and item to Shada, Shimon Muran became the Pharaoh's Grand Vizier.
Pharaoh Atem
Pharaoh Aknamkanon
Pharaoh Seto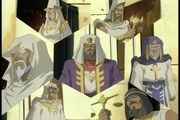 Ad blocker interference detected!
Wikia is a free-to-use site that makes money from advertising. We have a modified experience for viewers using ad blockers

Wikia is not accessible if you've made further modifications. Remove the custom ad blocker rule(s) and the page will load as expected.