Haiyama
English name

Japanese name
Japanese
Rōmaji

Gender
Anime debut

Yu-Gi-Oh! (Toei) episode 7: "The Underhanded Digital Pet Rebellion"

Japanese voice
Haiyama
Haiyama is a boy who gave people money and demanded them to whatever he wanted; if they did not do so, he would whip them.
Biography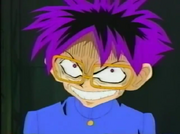 Haiyama manipulated Kujirada, while pretending that the opposite was going on. Haiyama was defeated by Yami Yugi in a Digital Pet battle. As his Digital Pet was defeated, he was seemingly beaten by his own pet.
Protagonists
Antagonists
Other
This article is a stub. You can help the Yu-Gi-Oh! Wikia by expanding it.