Go Onizuka
Names
Other

Go 鬼塚

Japanese
Japanese

鬼塚 豪

Base
Furigana

おにづか ごう

Rōmaji

Personal
Gender
Deck
Appearances
Voice actors
Japanese
Onizuka, Go
Go Onizuka is a character appearing in the Yu-Gi-Oh! VRAINS anime. He is a Charisma Duelist under the alias, Go Onizuka (Go 鬼塚), in Link VRAINS. Go also serves as Yusaku's rival.
Design
Appearance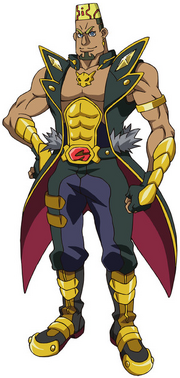 Go is a tan-skinned man with a built and bulky body. He has dark hair and chin beard and wears a gold hat with red-striped designs. He wears a greenish-grey jacket with a separate collar and a gold, animal-head-shaped necklace. Go is shirtless with only dark pants and a golden belt with a red stone in the center. His boots are buckled with gold plates. On his arms and abdomen he also wears the gold plates and dark, finger-less gloves.
Go maintains the same outfit in Link VRAINS.
Etymology
"Onizuka" (鬼塚) is written with the characters of "ogre" and "mound". "Go" (豪) can be translated as "strong" or "manly".
Deck
Go uses a "Gouki" Deck that incorporates Link Summoning.
Ad blocker interference detected!
Wikia is a free-to-use site that makes money from advertising. We have a modified experience for viewers using ad blockers

Wikia is not accessible if you've made further modifications. Remove the custom ad blocker rule(s) and the page will load as expected.