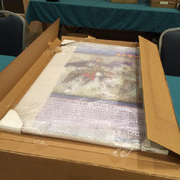 Giant Cards are oversized cards approximately a meter in height. They are usually given as prizes to the winner of an Attack of the Giant Card!! tournament, with the exception of "Blood Mefist" which was only available as a Yu-Gi-Oh! Championship Series prize card.
These cards initially had no foil on the card and were just mock representations of holofoil cards, but later prints actually resemble their normal-sized counterparts with the foil artwork and a stamped name.
Attack of the Giant Card!! prize cards
Giant Card Duel
Yu-Gi-Oh! Championship Series Prize Cards
Galleries
See also
References
Ad blocker interference detected!
Wikia is a free-to-use site that makes money from advertising. We have a modified experience for viewers using ad blockers

Wikia is not accessible if you've made further modifications. Remove the custom ad blocker rule(s) and the page will load as expected.