Gear Golem the Moving Fortress
Japanese:

機動砦のギア・ゴーレム

Romaji:

Kidō Toride no Gia Gōremu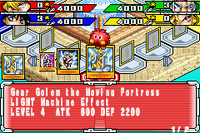 Other languages
| | Name | Lore |
| --- | --- | --- |
| French | Gear Golem, La Forteresse Mobile | Payez 800 Life Points. Cette carte peut attaquer directement les Life Points de votre adversaire ce tour-ci. |
| German | Getriebe-Golem, die bewegliche Festung | Zahle 800 Life Points. Diese Karte kann in diesem Spielzug die Life Points deines Gegners direkt angreifen. |
| Italian | Golem-Ingranaggio, la Fortezza Movente | Paga 800 Life Points. Questa carta può attaccare direttamente i Life Points del tuo avversario in questo turno. |
| Spanish | Golem de Ruedas la Fortaleza Móvil | Paga 800 Life Points. Esta carta puede atacar los Life Points de tu adversario directamente este turno. |
Decks
Search categories
Notes
↑ Despite being listed as an Effect Monster, this card is given a Normal Monster lore in the English version of the game. In other languages, its lore translates to:

Pay 800 Life Points. This card can attack your opponent's Life Points directly this turn.
Ad blocker interference detected!
Wikia is a free-to-use site that makes money from advertising. We have a modified experience for viewers using ad blockers

Wikia is not accessible if you've made further modifications. Remove the custom ad blocker rule(s) and the page will load as expected.