| | |
| --- | --- |
| | This article may require cleanup to meet this wiki's standards. |
There exists a difficult-to-find Asian release of the Duel Disk, referred to as the "Fight Disc for Card Games." While lacking the LED powered Life Point display and spring-loaded wings, the Fight Disc has some features that the first two American versions lacked: Life Point calculation - The Life Point readout can be adjusted between 0000 and 9999 since the numeral dials can be moved manually, unlike the American release. Although it cannot exceed 9999, this makes Life Point changes much easier to accomplish. Deck space - The Deck slot has a spring-loaded catch, allowing a deck exceeding 100 cards to be inserted safely and securely into the Disc. The spring-loaded platform raises the Deck as each card is drawn. Card sleeves - The slots of the Disc can accept sleeved cards (provided the sleeves are sized for Yu-Gi-Oh! cards, and are not larger than gaming cards). The securing clips are a lot less harsh on the cards than the American release. Cemetery (Graveyard) space - The central hub of the Disc, aside from having a removed-from-play zone, has space for over 100 sleeved cards. This section can also accommodate a Fusion Deck, unlike the American release. The Fight Disc also possesses additional features lacking in the American Duel Disk, such as extra slots for Monster, Spell, and Trap cards. The color details are in the form of stickers, meaning the entire Disc can be painted, if the owner so desires. The Fight Disc lacks a horizontal defense position slot, but makes up for this by use of a color indicator slider switch (red for attack position, green for defense Position). However, features such as the velcro arm strap, overall weight, lack of wide scale availability, and cost for international shipping still pose problems for most players wishing to attain this rare item.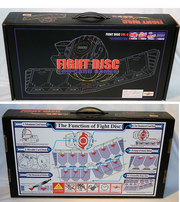 Ad blocker interference detected!
Wikia is a free-to-use site that makes money from advertising. We have a modified experience for viewers using ad blockers

Wikia is not accessible if you've made further modifications. Remove the custom ad blocker rule(s) and the page will load as expected.