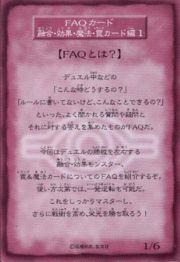 FAQ cards were a series of "frequently asked questions" cards included in packs from the Japanese OCG sets Booster 5, Booster 6, and Booster 7. Each set featured six different FAQ cards, with one card included in each pack.
Ad blocker interference detected!
Wikia is a free-to-use site that makes money from advertising. We have a modified experience for viewers using ad blockers

Wikia is not accessible if you've made further modifications. Remove the custom ad blocker rule(s) and the page will load as expected.