Japanese:

アイマウス

Romaji:

Ai Mausu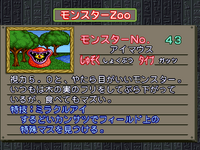 Monster Number

43

Group

Plant

Type

Gutsy

With 5.0 eyesight, it's a nasty monster with an acute eyesight.

It usually pretends to be a fruit hanging from a tree,

but don't be fooled, it tastes nasty.

Special Ability: Miracle Eye

Using its keen powers of detection,
it finds special masses on the field.
Japanese:

アイマウス

Romaji:

Ai Mausu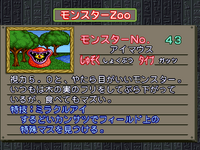 モンスターNo.

43

しゅぞく

しょくぶつ Shokubutsu

タイプ

ガッシ Gasshi

視力5.0と、やたら目がいいモンスター。

いつもは木の実のフリをしてぶら下がって

いるが、食べてもマズい。

特技: ミラクルアイ

するどいカンサツでフィールド上の
特殊マスを見つける。
Manga and anime
| | |
| --- | --- |
| Japanese | アイ・マウス |
| Romaji | Ai Mausu |
| Game | |
| Level | 1 |
| Appearances | |
| | |
| --- | --- |
| Japanese | アイ・マウス |
| Romaji | Ai Mausu |
| Game | |
| Level | 1 |
| Appearances | |