The official name of this article's subject is not yet known. The name used here is unofficial, and may change as more information becomes available.
Movers should not rename this page without discussion.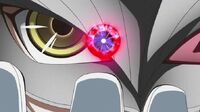 An energy ball is an ability used offensively in the Yu-Gi-Oh! ZEXAL anime. The user creates a medium-sized to large-sized energy sphere with a color determined by the wielder. Hart Tenjo was able to create an energy ball around him and make it grow larger.[1][2] Vetrix was later capable of doing so with the power he stole from Hart.[3] Later in the series, the Barian Emperor Mizar produced energy balls to use as weapons, though they did not cause permanent harm.[4] He also generated a red energy ball upon arriving on Earth from the Barian World, a variation that was later used by Vector.[4][5]
Gallery
References
Anime
Manga
Arcs
Video games
Duel Terms
Items
Technology
Abilities
Tournaments
Groups
Characters' Decks
Other
Ad blocker interference detected!
Wikia is a free-to-use site that makes money from advertising. We have a modified experience for viewers using ad blockers

Wikia is not accessible if you've made further modifications. Remove the custom ad blocker rule(s) and the page will load as expected.