Ad blocker interference detected!
Wikia is a free-to-use site that makes money from advertising. We have a modified experience for viewers using ad blockers

Wikia is not accessible if you've made further modifications. Remove the custom ad blocker rule(s) and the page will load as expected.
Elemental HERO Neos
Corresponding card
English name
Nicknames

Neos

Japanese name
Japanese

E・HERO ネオス

Base
Furigana

エレメンタルヒーロー ネオス

Rōmaji

Other language names
Arabic
French
German
Greek
Italian
Portuguese
Spanish
Thai

Gender
Organization
Anime debut

Yu-Gi-Oh! GX episode 102: "The Hands of Justice, Part 1"

Video game debut

Appears in
Anime
Video games

English voice
Japanese voice
Elemental HERO Neos (character)
Elemental HERO Neos, often shortened to Neos in the anime, is a character version of the card "Elemental HERO Neos". It appears as a Duel Spirit in the anime and a Single Duel opponent in a number of video games. His name is rendered Elemental Hero Neos in his earlier appearances.
Biography
Neos first appears in Jaden's Duel against Sartorius, telling him to fight the light, with darkness. Through most of the Duel, he guarded the keys to the mind control satellite from Sartorius. He later assisted in destroying said satellite with the help of Tyranno Hassleberry.
In the third season, Neos appears during the duel between Jaden and Jesse Anderson (Yubel) and later against Yubel again. Later, Jaden summoned Neos generally for help, he could do this with Yubel's powers.
3D Bonds Beyond Time
Non-canon appearances
In Yu-Gi-Oh! World Championship 2008, Neos appears as a Tag Tutorial partner for Neo-Spacian Aqua Dolphin. He only appears in this part of the tutorial, About Tag Rules and Review Duel 7.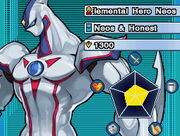 In Yu-Gi-Oh! 5D's World Championship 2010: Reverse of Arcadia, the player can unlock this opponent by defeating Ancient Sacred Wyvern three times in a Duel.
Deck
In Yu-Gi-Oh! World Championship 2007, Elemental Hero Neos uses a Deck titled "Today's Contact".
In Yu-Gi-Oh! 5D's World Championship 2010: Reverse of Arcadia, he uses a Deck called "Neos & Honest".
Today's Contact

 

Normal Monsters

Effect Monsters

Fusion Monsters
Neos & Honest

 

Normal Monsters

Effect Monsters

Fusion Monsters
Duel Opponent

Level 1
Level 2
Level 3
Level 4
Level 5
Level 6

Limited Duel Opponent

Level 1
Level 2
Level 3
Level 4
Level 5
Level 6

Theme Duel Opponent

Level 1
Level 2
Level 3
Level 4
Level 5
Level 6

Ghost Duelists

Nightmare Troubadour
Spirit Caller
Download
Misc. Download
Survival Mode

Recipe Duel Opponent
Duel Puzzles Opponent
Tutorial Opponent
Canon
Game original
Downloadable
World Champions
Free Duel
Free Tag Duel