The official English name of this article's subject is not yet known. The name used here is unofficial, and may change as more information becomes available.
Movers should not rename this page without discussion.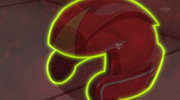 A Electric Shock Chip is a small chip that sends electrical shocks to a certain part of a person's brain to stimulate their aggressiveness. It is used by Jean-Michel Roget when he placed it in Yuya's helmet before his Duel with Crow Hogan.[1] The chip self destructed after the electrical output was at maximum and Yuya's synchronized Awakened state with Yuto, Yugo, and Yuri overpowering it.[2]
References
↑ Yu-Gi-Oh! ARC-V episode 87: "The Many Dimensions of Yuya"
↑ Yu-Gi-Oh! ARC-V episode 88: "Wake Up Call"
Franchise
Arcs
Duel terms
Items
Technology
Tournaments
Groups
Abilities
Other
Ad blocker interference detected!
Wikia is a free-to-use site that makes money from advertising. We have a modified experience for viewers using ad blockers

Wikia is not accessible if you've made further modifications. Remove the custom ad blocker rule(s) and the page will load as expected.