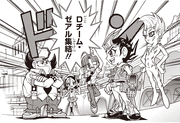 A Dueling Team (Dチーム Dyueru Chīmu) is a group of Duelists who join forces to Duel against other ones within the Yu-Gi-Oh! D Team ZEXAL spin-off manga that is similar to the Duel Gangs. Each team has its own Team Badge (チームバッジ Chīmu Bajji), which symbolizes the pride of the team.
The Dueling Teams are made in order to learn about the game's rules, learn new tactics and improve one's skills. Once a member receives their team's badge, they can compete against other teams through the D-Network.[1] A request can be sent or received through the D-Network by using the D-Pad.[2]
Known teams
References
↑ Yu-Gi-Oh! D Team ZEXAL Chapter 1: "Starting Duel Team ZEXAL!!"
↑ Yu-Gi-Oh! D Team ZEXAL Chapter 6: "A Duel with the New Deck!!"
Anime
Manga
Arcs
Video games
Duel Terms
Items
Technology
Abilities
Tournaments
Groups
Characters' Decks
Other
Ad blocker interference detected!
Wikia is a free-to-use site that makes money from advertising. We have a modified experience for viewers using ad blockers

Wikia is not accessible if you've made further modifications. Remove the custom ad blocker rule(s) and the page will load as expected.