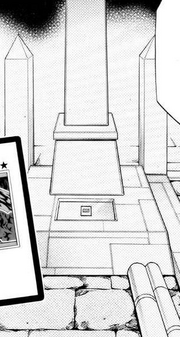 Duel Zodiacs (決闘星宿 Dyueru Zodiakku) are pillars used for the second stage of the D1GP tournament in the Yu-Gi-Oh! 5D's manga. There are 12 Duel Zodiacs, numbered from 1 to 12, each containing a Star Ticket with corresponding Level. They are spread around Satellite, and the participants can choose to which Duel Zodiac they will go.
Once 2 participants meet at a Zodiac, they may Duel, and the winner takes the Star Ticket featured inside the main pillar. Then, the participant heads to another Zodiac, until he/she has Star Tickets whose total Levels equal 12 or more, and in that case, head to the Duel Gate.
Series
Video games
Story arcs
Duel Terms
Artifacts & Items
Technology
Abilities
Groups
Tournaments
Characters' Decks
Other
Ad blocker interference detected!
Wikia is a free-to-use site that makes money from advertising. We have a modified experience for viewers using ad blockers

Wikia is not accessible if you've made further modifications. Remove the custom ad blocker rule(s) and the page will load as expected.