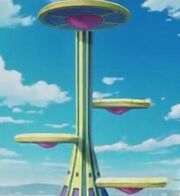 The Duel Tower is a tower within Yu-Gi-Oh! ZEXAL anime.
Structure
The Duel Tower is located within the Duel Coaster Stadium.
The tower is one large column in which various platforms stand along it. The platforms themselves make a field in which the finalists of the World Duel Carnival face off.[1]
Lastly at the top of the tower the Sphere Field is used during the final match.[2] However, after Vetrix and Yuma Tsukumo's Duel ended, the Duel Tower is destroyed.[3]
References
↑ Yu-Gi-Oh! ZEXAL episode 61: "Duel of Destiny: Part 1"
↑ Yu-Gi-Oh! ZEXAL episode 65: "Sphere of Fear: Part 1"
↑ Yu-Gi-Oh! ZEXAL episode 67: "Sphere of Fear: Part 3"
Ad blocker interference detected!
Wikia is a free-to-use site that makes money from advertising. We have a modified experience for viewers using ad blockers

Wikia is not accessible if you've made further modifications. Remove the custom ad blocker rule(s) and the page will load as expected.