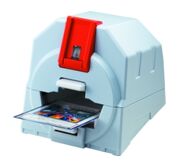 Features
The Duel Scanner cannot read cards given out at tournaments, cards included in magazines, Special Editions, Sneak Preview cards, Ghost Rare cards or Token cards.
Wii compatible via USB connection.
Issue
The Duel Scanner was advertised to be released along the Yu-Gi-Oh! 5D's Duel Transer video game. However, it was confirmed to be delayed indefinitely due to technical issues with the scanning technology.
This article is a stub. You can help the Yu-Gi-Oh! Wikia by expanding it.