Duel Academy volcano
Page Help

0
63,751pages on
this wiki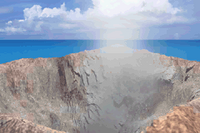 The volcano is a location on the Duel Academy island in Yu-Gi-Oh! GX. Looming just behind the Academy, several events in the series take place here.
Nightshroud, the first of the Shadow Riders, dueled Jaden Yuki here. Atticus Rhodes would later duel Zane Truesdale on the side of the volcano during the Genex Tournament.
During the Trueman invasion, Jaden would duel Trueman here.
This article is a stub. You can help the Yu-Gi-Oh! Wikia by expanding it.