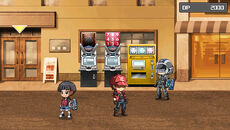 Downtown District (シティ繁華街) is a region in New Domino City.
Yusei Fudo walked through here on his way to Bootleg. He walked passed bars and restaurants where people were taking part in various night activities. Unbeknownst to him, he was being stalked as he went through here.[1]
Non-canon
In Yu-Gi-Oh! 5D's Tag Force 4-6, Rathie's shop is located in this district.
References
↑ Yu-Gi-Oh! 5D's episode 11: "The Take Back, Part 1"
Ad blocker interference detected!
Wikia is a free-to-use site that makes money from advertising. We have a modified experience for viewers using ad blockers

Wikia is not accessible if you've made further modifications. Remove the custom ad blocker rule(s) and the page will load as expected.