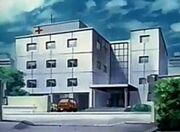 Domino City Hospital is a hospital in Domino City.
Events
Solomon Muto was sent here in the anime, after Pegasus took his soul.
In the manga, Yugi was sent here to recover from his burns, after staying behind in the burning Black Clown.[1]
References
↑ Yu-Gi-Oh! Duelist Duel 87: "The Ancient Stone"
Ad blocker interference detected!
Wikia is a free-to-use site that makes money from advertising. We have a modified experience for viewers using ad blockers

Wikia is not accessible if you've made further modifications. Remove the custom ad blocker rule(s) and the page will load as expected.