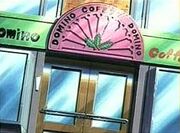 Domino Coffee is a restaurant in Domino City in the anime and manga. In the English anime, the restaurant's name is erased. In the manga, its name is never mentioned.
Téa Gardner and Yami Yugi went here among other places on their date. In the anime, the drinks they were served has logos resembling those of Starbucks. These logos were erased in the English anime.
References
Ad blocker interference detected!
Wikia is a free-to-use site that makes money from advertising. We have a modified experience for viewers using ad blockers

Wikia is not accessible if you've made further modifications. Remove the custom ad blocker rule(s) and the page will load as expected.