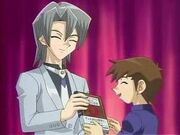 Do You Think So? is a book by Aster Phoenix.
Aster distributed copies of the book at an event, where he got Chazz Princeton to help out. To Chazz's horror there were twenty truckloads of the book, he had to carry in.[1]
References
↑ Yu-Gi-Oh! GX episode 165: "Take Aim, Manjome! The Road to Being a Pro Duelist!"