Japanese:

ダイナソーウイング

Romaji:

Dainasōuingu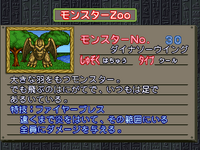 Monster Number

30

Group

Reptile

Type

Cool

A monster with giant wings.

Because it can barely fly,

it tends to always walk with its feet.

Special Ability: Firebreath

It breathes flames far and wide,
damaging everything within its range.
Japanese:

ダイナソーウイング

Romaji:

Dainasōuingu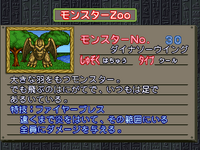 モンスターNo.

30

しゅぞく

はちゅう Hachuu

タイプ

クール Kūru

大きな羽をもつモンスター。

でも飛ぶのはにがてで、いつもは足で

あるいている。

特技: ファイヤーブレス

遠くまで炎をはいて、その範囲にいる
全員にダメージを与える。
Yu-Gi-Oh! Monster Capsule: Breed and Battle
Ad blocker interference detected!
Wikia is a free-to-use site that makes money from advertising. We have a modified experience for viewers using ad blockers

Wikia is not accessible if you've made further modifications. Remove the custom ad blocker rule(s) and the page will load as expected.