"Die" redirects here. For deaths within the series, see
List of deaths
.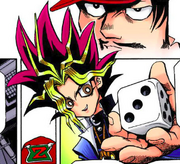 Dice (singular die) are throwable items, with multiple resting positions used for generating random numbers. The most common configuration of dice is the six-sided cube. Ten-sided dice are also used in Monster World.
Uses
In Duel Monsters and its real-world counterparts, the OCG and TCG, numerous cards effects involve rolling a six-sided die, with faces numbered 1 to 6.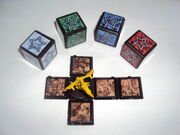 The game Dungeon Dice Monsters uses six-sided dice. The faces of the dice contain different crests. The crests rolled determine if the player can Summon a monster or store crests in their pool. Monsters are stored inside the dice. When a monster is Summoned, its die is unfolded and placed on the field to create a path.
Other games featuring six-sided dice include the dice game and dice in cup.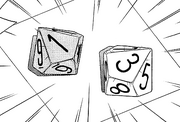 The game Monster World uses ten-sided dice. Each player rolls two such dice to generate numbers between 00 and 99. Dark Bakura and Dark Yugi were able to manipulate the outcome of the rolls using a "double hit" technique.
See also
Die roll: list of cards, whose effects involve rolling dice
Ad blocker interference detected!
Wikia is a free-to-use site that makes money from advertising. We have a modified experience for viewers using ad blockers

Wikia is not accessible if you've made further modifications. Remove the custom ad blocker rule(s) and the page will load as expected.