The chief inspector (警部 keibu), initially credited as detective (刑事 keiji), is an unnamed character appearing in the Toei Yu-Gi-Oh! anime. He is the anime's incarnation of the chief, from the manga.
Biography
Escaped convict
The detective went to Burger World, where he had tracked an escaped convict. He alerts the staff, Anzu Mazaki, Miho Nosaka, Hiroto Honda and another, who unbeknownst to him is the convict in disguise. Yugi Mutou and Katsuya Jonouchi also listened in on the conversation. He showed them a picture of Tetsuo Sasaki, thinking that he is the convict, but also points out that the convict is a master of disguise and it is rare to see him out of disguise.[1]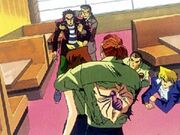 The detective told the staff, Yugi and Jonouchi that after stealing the jewels, the convict struggled with a guard, so he may have a mark on his right calf. Anzu deliberately spilled over a basket of toy cars, so they could search customers' legs for the scar, while picking up the cars. After one customer made a fuss over this, the detective was forced to alert the customers of the convict.[1]
None of the customers were willing to co-operate, so the detective told the gang that the culprit has an allergic reaction to eggs. Anzu lied about the burger buns containing egg out loud, causing Tetsuo Sasaki to panic and expose himself.[1]
The detective tried to subdue Sasaki before he could escape, but in his struggle Sasaki knocks over one of the staff, revealing him to be the true convict, Jiro the Jorogumo.[1]
Jiro took out a gun, preventing the detective from arresting either man, until Dark Yugi defeated Jiro in a Shadow Game.[1]
Bomber
The chief inspector was sent to Domino Park after a bomb scare. The Continuous Bomber phoned him to say that the bomb was in the Ferris wheel and invited him to play a game involving balloons to find save the hostages in the carriages.[2]
The chief inspector received help from Dark Yugi. After playing the game, Dark Yugi inflicted a Penalty Game on the bomber, making him go berserk and fall out of his carriage allowing him to be arrested.[2]
References
↑ 2.0 2.1 Yu-Gi-Oh! (Toei) episode 14: "In a Bomb Game - The Worst Date"
Protagonists
Antagonists
Other
Ad blocker interference detected!
Wikia is a free-to-use site that makes money from advertising. We have a modified experience for viewers using ad blockers

Wikia is not accessible if you've made further modifications. Remove the custom ad blocker rule(s) and the page will load as expected.