Ad blocker interference detected!
Wikia is a free-to-use site that makes money from advertising. We have a modified experience for viewers using ad blockers

Wikia is not accessible if you've made further modifications. Remove the custom ad blocker rule(s) and the page will load as expected.
Des Frog
Corresponding card
English name
Japanese translated

Japanese name
Japanese
Rōmaji

Gender
Anime debut

Yu-Gi-Oh! GX episode 74: "Happily Never After"

Video game debut

Appears in
Anime
Video games

Des Frog (character)
Des Frog, known as Death Frog in the Japanese version, is a character version of the card, "Des Frog".
Yu-Gi-Oh! GX
In Yu-Gi-Oh! GX, the Des Frogs were believed to be Duel Monster spirits seen by Princess Rose (manifested as three "princes" named Jeffrey, Roosevelt and Percival in the English dub), but others do not believe her. Jaden, however, notices the spirit of a frog prince watching over her after their duel.
Non-canon appearances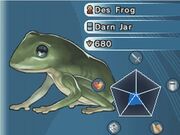 Des Frog appears in the video games, Yu-Gi-Oh! Ultimate Masters: World Championship 2006 and Yu-Gi-Oh! World Championship 2007. In World Championship 2007, he appears as a Level Two Theme Duelist and he challenges the player to make him run out of cards in his deck. By beating him, the player gets closer to unlocking Level Three Theme Duelists and a new booster pack.
Deck
In World Championship 2006, Des Frog play a WATER Deck titled, "Frog Warning Deck". In World Championship 2007, he play a Mill Deck titled, "Darn Jar".
Frog Warning Deck

 

Effect Monsters

Fusion Monster
Duel Opponent Level 1
Duel Opponent Level 2
Duel Opponent Level 3
Duel Opponent Level 4
Duel Opponent Level 5
Specials
Duel Puzzles
Limited Duel Duelists
Theme Duel Duelists
Duel Opponent

Level 1
Level 2
Level 3
Level 4
Level 5
Level 6

Limited Duel Opponent

Level 1
Level 2
Level 3
Level 4
Level 5
Level 6

Theme Duel Opponent

Level 1
Level 2
Level 3
Level 4
Level 5
Level 6

Ghost Duelists

Nightmare Troubadour
Spirit Caller
Download
Misc. Download
Survival Mode

Recipe Duel Opponent
Duel Puzzles Opponent
Tutorial Opponent