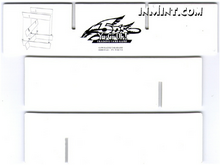 Deck partitions are pieces of cardboard which can be placed into collectible tins to divvy up different Decks. Available only in the 2009 Collectors Tins and Collectible Tins 2009, the partitions could be made into an H-shaped structure, which could then in-turn be placed into the Collector's tin (or similar-sized and shaped container). Given its shape, one set of partitions can divvy up to six Decks.
Ad blocker interference detected!
Wikia is a free-to-use site that makes money from advertising. We have a modified experience for viewers using ad blockers

Wikia is not accessible if you've made further modifications. Remove the custom ad blocker rule(s) and the page will load as expected.