Dean, known as Kunimasa Sawanaka in the Japanese version, is a character appearing in the Tag Force series.
Appearances
Tag Force 1-3

In the Tag Force GX games, Dean is a teacher at Duel Academy.
Tag Force 4-6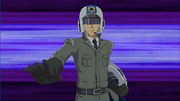 In the Tag Force 5D's installments, Dean is a member of Sector Security. In Tag Force 4, he shows up in "Crow's Hideout", "Abandoned Factory", "B.A.D. Area" and "Shoreline".
Tag Force 4
Dean duels alongside Trudge against the Player and Crow in the second event of Crow's story.
Decks
Dean uses Counter Fairy Decks in the first three installments. From Tag Force 4 onwards, he uses Gladiator Beast Decks instead.
Tag Force
Tag Force 2
Tag Force 3
Tag Force 4
In Yu-Gi-Oh! 5D's Tag Force 4, Dean uses Decks titled "The Hot-Blooded Dean's Deck" (熱血沢中デッキ, Nekketsu Sawanaka dekki)
The Hot-Blooded Dean's Deck 1

| | | |
| --- | --- | --- |
| | | |
The Hot-Blooded Dean's Deck 2

| | | |
| --- | --- | --- |
| | | |
The Hot-Blooded Dean's Deck 3

| | | |
| --- | --- | --- |
| | | |
The Hot-Blooded Dean's Deck 4 - Main Deck

| | | |
| --- | --- | --- |
| | | |
The Hot-Blooded Dean's Deck 4 - Side Deck

| | | |
| --- | --- | --- |
| | | |
Tag Force 5
In Yu-Gi-Oh! 5D's Tag Force 5, Dean uses Decks titled "Enthusiastic Generation" (熱中時代, Necchuu Jidai)
Enthusiastic Generation 1

| | | |
| --- | --- | --- |
| | | |
Enthusiastic Generation 2

| | | |
| --- | --- | --- |
| | | |
Enthusiastic Generation 3

| | | |
| --- | --- | --- |
| | | |
Enthusiastic Generation 4

| | | |
| --- | --- | --- |
| | | |
Tag Force 6
In Yu-Gi-Oh! 5D's Tag Force 6, Dean uses Decks titled "Battle Chronicles of the Enthusiastic Generation" (熱中時代 剣闘編, Necchi jidai kentatakaehen)
Battle Chronicles of the Enthusiastic Generation 1

| | | |
| --- | --- | --- |
| | | |
Battle Chronicles of the Enthusiastic Generation 2

| | | |
| --- | --- | --- |
| | | |
Battle Chronicles of the Enthusiastic Generation 3

| | | |
| --- | --- | --- |
| | | |
Battle Chronicles of the Enthusiastic Generation 4

| | | |
| --- | --- | --- |
| | | |