DM1
/
DM2
Japanese:

やみ・エネルギー

Romaji:

Yami Enerugī

Translated: Darkness Energy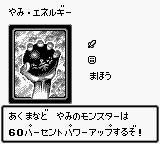 Milestone drops
This card can be won by defeating these characters a specific number of times, the number of wins needed, is listed in the milestone column.
| Character | Milestone |
| --- | --- |
| PaniK | 20 |
Random drops
This card can be won from the following characters. The chance of winning it is listed as a percentage and a probability out of 2048.
| Character | % | 2048th |
| --- | --- | --- |
| PaniK | 4.88 | 100 |
Yu-Gi-Oh! Duel Monsters (video game)