[[English name (linked)::
Damage Capture
| ]]
[[Card type (short)::
Trap
| ]]
[[Lore::
Activate
only when you take
damage
from an opponent's
card effect
.
Select
1
face-up
monster
you
control
. It gains
ATK
equal to the damage you took, until the
End Phase
.| ]]
[[Property (short)::
Normal
| ]]
The English name given is not official.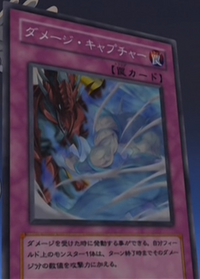 Anime cards (Galleries:
GX
)
Other languages
Name
Lore
Japanese
ダメージ・キャプチャー
ダメージを受けた時に発動する事ができる。自分フィールド上のモンスター1体は、ターン終了時までそのダメージ分の数値を攻撃力に加える
Damēji Kyapuchā
Decks
Search categories
Ad blocker interference detected!
Wikia is a free-to-use site that makes money from advertising. We have a modified experience for viewers using ad blockers

Wikia is not accessible if you've made further modifications. Remove the custom ad blocker rule(s) and the page will load as expected.