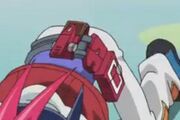 The
D-Pad
(D・パッド
D Paddo
Duel Pad
) is a new type of
Duel Disk
introduced in
Yu-Gi-Oh! ZEXAL
. The term "D-Pad" is used in the
manga
, while the anime simply refers to them as "Duel Disks".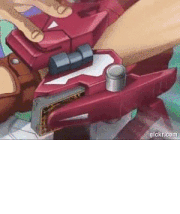 Like its predecessors, it is worn on the wrist, but is more box-like and possesses more high-tech features. The Deck Zone is placed in the side of the wrist while the Graveyard Zone is placed on top. When activated, the Card Zones seem to quickly fold up. It also seems that Spell and Trap Cards are placed in a single slot near the Graveyard Zone, as opposed to 6 with the earlier models (5 normal spell/traps and 1 Field Spell. It also features a touch screen that allows the duelist to activate card effects and check cards on the field, but can also be removed to be used for other purposes.
Unlike the Duel Disk, it lacks the holographic projectors and is instead used in conjunction with the Duel Gazer for more involving effects. Also, unlike the 5D's standard Disk, the Extra Deck Zone is stored separately from the D-Pad.[1] When not in Duel mode, the Deck and Graveyard holders are placed on a belt behind the Duelist's waist[2] and the touch screen is detached and can be given alternate functions like being televisions, laptops, or notebooks for schoolwork.[3] It can also connect to the internet. [4]
As with the previous versions, the D-Pad can be customized with an assortment of colors and models. This includes the standard silver color model that has red (Yuma Tsukumo) and blue (Reginald Kastle) versions, a pink D-Pad that is built into Lilly's arm, and a the blue D-Pad that is summoned and used by Astral. Also, it looks like D-Pads can be customized by its owner, as shown with the photographer Syuta Hayami, who has a camera attached to it.
Gallery
| Information | Image |
| --- | --- |
| The standard version of a D-Pad is entirely in gray. | |
| Yuma Tsukumo - A red-colored version of the standard. | |
| Reginald Kastle - A blue-colored version of the standard. | |
| Flip - A greyish blue-colored version of the standard. | |
| Kite Tenjo - A unique kind of D-Pad which is shaped like a crescent moon. This D-Pad is first shot out of Orbital 7's head and onto Kite's wrist. It is then rotated and enlarged into what it appears now. Also, unlike the usual D-Pad, this D-Pad doesn't have a touchscreen, but a crystal-like thing instead. The back also contains a crystal. | 200px |
| Lilly - Lilly's D-Pad is pink and is built into her arm. When not in Duel mode, her Deck is carried in her mouth. | |
| Astral - His D-Pad is different than most other D-Pad, due to its awkward shape and that it is manifested instantly out of thin air by Astral, rather than being manufactured. Strangely, it doesn't seem to have any Monster Card Zones. | |
| Yuma/Astral Combined - With Astral and Yuma fused together, they acquired a new D-Pad in their new state of form. It has 5 Monster Card Zones on one side and 5 Spell & Trap Card Zones on the other side. The eleventh Zone is probably used as a Field Spell Card Zone. | |
| Anna Kozuki - Anna's D-Pad has a different form and shape than the most others. Its color matches that of her hair, Duel Gazer, clothing and cannon. | |
| IV - IV's D-Pad is activated in a similar manner to Kite's. It resembles a knight's gauntlet with a dark-yellow colour. The Monster Card Zones appear on a dark-yellow & red blade-like structure. The graveyard seems to appears to be the bottom slot on the right side of the blade, and the Spell/Trap Card Zone is the slot right above it. | |
| III - III's D-Pad is activated in a similar manner to Kite's & IV's. Like IV's D-Pad, it resembles a knight's gauntlet. However, it is gray in colour and the monster card zones appear on a light-green & white feathered wing-like structure. The graveyard appears to be on grey and orange oval pod where the monster zones stem from. The spell/trap slot looks to be in the small arm that connects the body of the duel disk to the gauntlet. | |
| V - V has a D-Pad that resembles a knight's gauntlet, much like his brothers IV and III. However, V's resembles IV's more than it does III's. Also, the method of which V's D-Pad is activated is unknown. The back of the D-Pad shows an ∞ (infinity) sign. | 200px |
| Tron - Like III, IV and V, Tron's D-Pad has a medieval style. The back of the D-Pad shows a sign that looks like an ∞ (infinity) sign with one additional circle. There are two slots below the monster zones, which are most likely the graveyard and the spell/trap card zones. | |
| Syuta Hayami - Syuta's D-Pad is another unique piece, as its original form is a camera. Even though it may be in its Dueling state, it can still take pictures and instantly print the photos. Syuta uses this to take pictures of major events from the near possible future. | |
| Gauche - When Gauche first Duels, his D-Pad materializes on his arm in a fire-like light. It is shaped like a flame, reflecting his fiery enthusiasm. Later, his D-Pad does not materialize, he instead throws the touch screen portion in a manner similar to Yuma | |
| Droite - As with Gauche, Droite's D-Pad materializes on her arm when she will duel, with a shinning purple light. Her D-Pad has a butterfly-style motif, reflecting her Deck that revolves around "Butterspys". | |
| Chukichi - As a dog, Chukichi's D-Pad is a very unique dog-like model. | |
| Cologne - Cologne's D-Pad is very different from the standard ones. Hers is normally a balloon, which opens when she will Duel, forming a D-Pad. Even during a Duel, it keeps floating, instead of being attached to her arm. | |
| Luna - Luna's D-Pad has a crescent moon shape, referring to her name, Deck and Duel Gazer. Her D-Pad also resembles Kite's, but is shaped to the opposite side. | |
References
Anime
Manga
Arcs
Video games
Duel Terms
Items
Technology
Abilities
Tournaments
Groups
Characters' Decks
Other