The official English name of this article's subject is not yet known. The name used here is unofficial, and may change as more information becomes available.
Movers should not rename this page without discussion.
Creator God

Japanese

創造神

Japanese (ruby)

そうぞうしん

Japanese (base text)

創造神

Japanese (romanized)

Sōzōshin

Japanese (translated)

Creator God

Lists
Creator God (創造神 Sōzōshin) is an exclusive Type, used only by the DIVINE monster "Holactie the Creator of Light". Its exclusive distribution implies a greater importance over other DIVINE cards, namely the Egyptian Gods.
"Holactie the Creator of Light" appears in the Yu-Gi-Oh! anime and manga, summoned by Atem once he declared his name and combined all three Egyptian Gods ("Obelisk the Tormentor", "Slifer the Sky Dragon" and "The Winged Dragon of Ra").
Example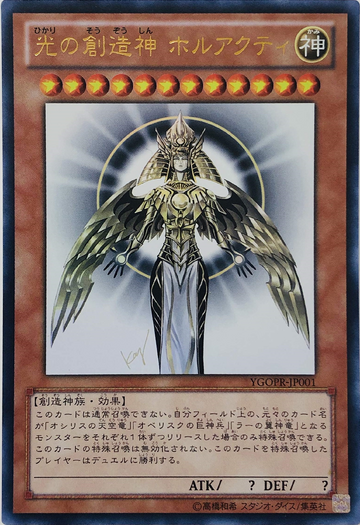 Ad blocker interference detected!
Wikia is a free-to-use site that makes money from advertising. We have a modified experience for viewers using ad blockers

Wikia is not accessible if you've made further modifications. Remove the custom ad blocker rule(s) and the page will load as expected.